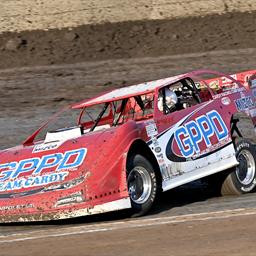 ---
10 Days til Round 1
The season is almost here with practice next Wednesday and the first round next Saturday at Ellenbrook Speedway. Both cars are ready to go, and we are looking forward to a strong start to the season.
As always Scott Beattie, the LMRWA Stats guy, has looked back at the history and in particular the last 20+ years of the LMRWA Pro Dirt Series and I thought this might be of interest. We have had 11 podium finishes in the series but also this quote from the article ''the best average finish actually belongs to Jay Cardy with a 3.5 average finish, closely followed by Warren Oldfield whose average is 3.75, followed by Blake's 4th and then Michael Holmes with a 5.7. Amazing, especially considering how many years each of these competitors have been contesting the series''.
I have attached the link below to the article.
I have also attached a picture from our history section on www.GPPDTeamCardy.com, John Cardy on the outside and Ian Metcalf on the inside. Over the winter My Race Pass got involved and updated and relaunched our site; results, future dates, merch and history, it now has it all and updates instantly.
It has been a productive winter and I am really looking forward to next week to get the season started, I really appreciate your support.
https://www.facebook.com/LateModelsWA/posts/pfbid02ANfCSrAv5DS54NkX6kMzoSdbmc7jpxMgAnw1ZiYSJi5UPMThkLYqp7cUg3JUwPacl
Check out www.GPPDTeamCardy.com for all the latest
If you were unable to get to the track and want our new merchandise, shirts and hoodies, pictured to the left, check out http://www.ovaltrackdiecast.com.au/category/speedway-apparel--accessories/jay-cardy
---
Back to News